Printer-friendly version
Jessica Rienecker (TallGirl Yogi)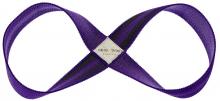 I first came across the infinity strap at the Yoga Journal Live San Diego Conference. They were in the marketplace hall and had straps to try, along with instructional DVDs. In their booth they also had a diagram with dozens of ways to use to strap and mentioned that this was only a fraction of the uses. Infinity strap users are always finding new ways to use the tool to enhance their yoga practice.
The strap was created by a surfer and yogi with chronic shoulder issues who was struggling to use traditional straps for multiple uses. It is an infinity loop: one solid band that loops twice like a figure-eight. Without a metal or plastic buckle on the strap, there no inconvenient pinches of the skin or loud crashes if your strap falls during practice. Since the band already has a loop, I found that it was great for hooking a foot or hand without having to lasso my limbs as one must with a traditional strap.
The cotton version stretches slightly and the "STRETCH" version has even more give, but the bands come in different sizes to match your shoulder width. The snug fit is great for keeping arms drawn in when they're over your head in Urdhva Hastasana, or down on the floor in an upward dog. This is also a pinch-free training tool around the arms for dolphin pose, Pincha Mayurasana, or kicking up into handstand at the wall. Rather than having to hold the ends of a strap when working on shoulder openings, your arms can simply hook through the loops and passively stretch tight shoulders and upper back muscles without strain. The loops also eliminated any struggles with bound poses because you can always find the other end of the strap. It is machine washable, and was much quicker to transport after class since you can just fold it in half!
Amir Zaki of Infinity Strap has a few YouTube videos available with suggested uses, but guidebooks and DVDs are also available for purchase on their site, great supplements for yoga therapists or yoga practitioners with injuries.
Find out more at www.infinitystrap.com

Jessica Rienecker has been practicing yoga since 2009, and teaching since 2013 in Orange County, California. She focuses on intro level classes to help make yoga accessible to all fitness levels and body types.You can follow her on facebook at www.facebook.com/TallGirlYogi or her blog at www.tallgirlyogi.com. Jessica is Project Manager at Yoga Teacher Magazine.