Printer-friendly version
You Have To Walk Right Into The Center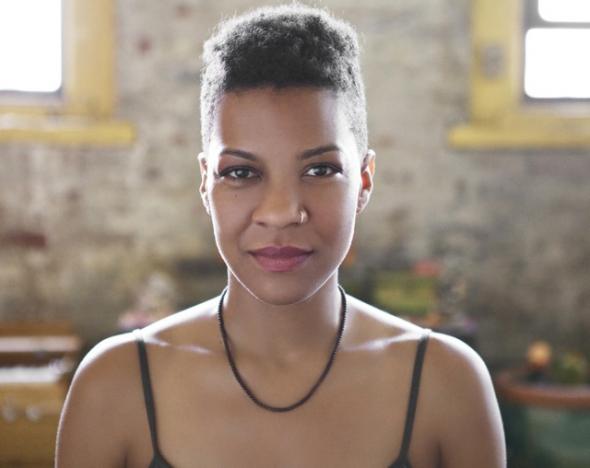 Leslie Booker, Director of Teacher Trainings for the Lineage Project  
Co-sponsor of Panel and Founder of Urban Sangha Project
Booker found her calling to empower youth affected by incarceration through yoga and meditation in 2007.  She currently teaches with several programs NYC that serves LGBTQI teens, women in recovery and is the Director of Teacher Trainings with the Lineage Project, an organization that brings awareness-based practices,  like yoga and meditation, to incarcerated and court involved youth in New York City.  She's facilitated a mindfulness-based intervention on Riker's Island through NYU, and has taught with the Prison Yoga Project in San Quentin Prison in Northern California.  She is also the founder of Urban Sangha Project, a collective that supports the sustainability of front line ChangeMakers through Mindful Yoga, Meditation and Dialogue.  She has become a regular presenter at conferences around the country, and offered her services at the 2012 Democratic National Convention in North Carolina.  She is committed to collaborations that support bridging the gap between yoga, mindfulness  and grass roots activism.  
I spoke with Leslie Booker -- she's known as Booker -- in online FB chat. She had been one of my two excellent trainers (the other was Chia-Ti Chiu) when I took the Lineage Project training. Booker and I clicked -- even, or maybe especially, after I questioned an aspect of the training. She's warmhearted, open, a total riot, and committed to her work with a determination that is downright inspirational.
Yoga Teacher Magazine: So Booker, how are ya doin'?
Leslie Booker: I'm good, bit of an unexpected chaotic day. That's what happens when you start your day with caffeine instead of meditation!
YTM: Ha! I started with both, but not simultaneously at least...  Oh, before we start I also want to tell you I love the new do -- are you getting good reaction on that? Grace Jones, ha!
LB: Hahaha, I LOVE the new do! A lot of older Black women are stopping me on the street. They're like, "Yeah, lil Sis, do it!" And I find that men are treating me with a different level of respect on the street. Maybe 'cause it looks like I might cut them? It's been a really beautiful experience.
YTM: "I will cut you!" So let me first ask you something about your life story, just to introduce you. Where did you grow up and what was your childhood and early life like?
LB: I was raised by Black Republicans during the Reagan era, so.... My father was in the Navy for 31 years, then worked for the government, securing nuclear weapons in the former Soviet Union for about 15 years. I spent 3 years of my childhood living in Japan, the rest of it in Northern Virginia. Even though I got that my parents and I were on opposite ends politically by time I was about 11, they allowed some space for me to express myself. Family dinners were quite lively. They've since converted.
YTM: To the Democratic Party?
LB: Yup. I convinced my dad to vote for Gore, I was still registered in Virginia at the time, so we went voting together in the gym of my old elementary school. It was sweet. Bittersweet...  I also spent a lot of time in trees and playing with worms and caterpillars. I wasn't a total freak as a kid!
YTM: Yeah, right.... believe what you want girl! So did you find your way toward yoga early on or did that come later?
LB: Much, much later in life. I was actually probably 27 when I went to my first yoga class. I was a dancer most of my life, so being back in my body was like going home.
YTM: Where were you between dance and yoga, what was happening then?
LB: I did ballet all through my childhood, was on a #1 nationally ranked dance team throughout high school, and at 17 became an NFL cheerleader. After two years of that, I just wanted to be a kid. So I waited tables, went to a community college for a while, started working at Nordstrom and at 22 years old, went to University to get my degree in Fashion Merchandising. I moved to NY in '99 to pursue a career in the fashion industry, which I did for about a decade.
YTM: So what were your first experiences like with yoga?
LB: I was like, "Oh yeah, my body!" One of my best friends took me to that little studio on the corner of 1st  and 1st  in the East Village. It was upstairs from a vegan restaurant that was affiliated with the yoga studio. Amazing food, been shut down for years, now.
YTM: I remember that place.
LB: Soon after I started practicing at the old Jivamukti space that was on Lafayette, classes were like $12 back then. I was vegan and doing that whole thing, skinny skinny. I refer to it as my Willem Dafoe era.
YTM: Ha! So after rediscovering being in your body, you decided to become a yoga teacher?
LB: No, that was still a few years away. I had a really unhealthy relationship with yoga. I wasn't hearing the philosophy, I wasn't getting the spiritual side, I just loved feeling my body again, so I was there just for the physicality of it. About 2005 I was feeling that fashion was just not what I wanted to do for the rest of my life. I never saw anyone over 40 on photo shoots, and it freaked me out. I remember asking someone, "So, what happens after you're 40, what do people do in fashion?" And someone said, "I don't know, you become an art director?" So I started to investigate what really made me come alive, I took my entire savings and enrolled in the Institute of Integrative Nutrition. At this point, I had started studying Ayurveda and realized that a vegan diet was not working for this little Vata body of mine! I had really fallen in love with food and wanted to look into what that could look like as a career. But what I realized at IIN was that I was fascinated by people and their stories, fascinated by what I was learning about my mind and my body.
YTM: And where did that lead you?
LB: I started asking about part-time work. Just something to gently slide me out of the freelance fashion game. I got hired at the NY Open Center, back when they were on Spring Street. (Jeez, this interview is starting to sound like a PBS tour through old downtown Manhattan!) Got hired at $10 bucks an hour and had never been happier. I met my mentor, Stan Grier, there and he completely took me under his wing. He said, "You should really teach with the Lineage Project." And I said, "Why? I don't teach yoga and I hate teenagers..."
About a year later, he convinced me to do my Yoga Teacher Training through Dr. Jeff Migdow's Prana Yoga training at the NYOC. My intention was only to take advantage of this offering and to learn more about my practice. Halfway through my training I got a chance to assist another teacher who was starting to work with pregnant teenage girls, and I was like, "Oh, yoga can serve like this! Got it." I totally got how relevant these ancient practices (yoga and meditation) were to these young girls. That same summer I completed my pre-natal teacher training and the following spring joined up with the Lineage Project.
YTM: Would you mind explaining what Lineage Project is, what it does, and your role as it has evolved?
LB: Yeah, the Lineage Project was founded by Soren Gordhammer (of Wisdom 2.0) in 1998.  We're an organization that brings awareness-based practices like yoga and meditation to incarcerated and court-involved youth in NYC.  Our intention is to offer these practices as tools for our kids in order to support them in getting to know their minds and bodies better, so that then they can feel their triggers and make better decisions for themselves. [Ed. Note: http://www.lineageproject.org/ ] I started with the Lineage Project less than a year after completing my 200 hour teacher training, so was completely wide-eyed and bushy-tailed. But I had great mentors and was soon brought in to assist in the teacher trainings. About a year ago, I was asked to step into the role as Director of Teacher Trainings.  We've taken the foundation of what the training is and really beefed it up. We talk about the hard things that others are too polite to speak about in similar trainings. We talk about how our privilege affects our views on race, culture, class and gender; we talk about trauma, the breakdown of the restorative and justice systems and about resiliency theory. I'm really proud of our teaching team.
YTM: So I know you have other stuff going on like Urban Sangha Project, but let's talk for a moment about your work with Lineage. This is pretty hardcore service work, going into incarceration situations. How has that experience, working with these kids, affected and evolved for you?
LB: Working with Lineage and especially with our Executive Director, Beth Navon, has been an incredibly transformative experience for me. I recently spoke at my second Mindfulness in Education Conference at Omega, presented at PBS's Games in Education Conference up in Albany, have shared our work on the radio, and have been the subject of a mini-documentary in the Urban Yogis series that Eddie Stern put together with Deepak Chopra [Ed. Note: online at: https://www.youtube.com/watch?v=BXcO3SSr_vs ]. All this to say that the more I speak about our work publicly and the more people get to experience and ask questions about how we do our work, then the more understanding, compassion and empathy people have for our kids. And they understand that it's more than just teaching kids tree pose!
I had the opportunity to co-facilitate an intervention with the adolescent population on Rikers Island [Ed. Note: New York City's main jail complex] for two years. We studied if Cognitive Behavioral Therapy along with Mindfulness could help lower the risk of recidivism in this population. Being trained in CBT took my yoga teaching and understanding of the dharma to another level, it was amazing to fully understand in a deeper way the work we were doing. I also jumped at the invitation to co-teach with James Fox of the Prison Yoga Project out in San Quentin Prison in Northern California.
YTM: I love that video with Eddie Stern, that's a great way for people to get a sense of your work. It is much more than just teaching Vrksasana, absolutely. But actually what kinds of experiences have you had with these kids? Are there any times you've felt in over your head?
LB: I always feel in over my head, hahahahaha!  But my practice is a constant reminder to go back to my breath, to go back to my intention (not my goal, but my intention!), to go back to this place of one suffering human communicating and being with another suffering human being. I'm truly amazed that it actually works! It's all practice, all of it. From dealing with the staff, the chaos of the environment these kids are housed in, the injustices I see right before my eyes, it's all a practice to stay present.
YTM: Indeed! I think for all service workers it's difficult to deal with the heartbreak. And the practices of yoga and mindfulness help with that, yes?
LB: Absolutely. When I first started this work with Stan, I would just crumble after teaching. I would hold it together to ask him questions, to get feedback, to understand, then I would go home and scrub my body in the shower for 45 minutes to try and get all of the suffering off of me. But that doesn't work!  You have to walk right into the center of it and try to find some peace with it. And that is the practice. For me!
YTM: And that's made you stronger in your own life, I would imagine.
LB: Maybe a little too strong, at times, perhaps. But I still have moments when I'm telling a story of one of my kids in a training or at a conference and I get choked up. But the strength that I've cultivated keeps the work sustainable for me.
YTM: Booker, I wonder about people -- well, teachers, but I hear they're people too -- coming into this world of yoga service --
LB: Hahaha, yup, some of them ARE people!
YTM: Ha! I've known one or two! (What a terrible thing for the editor of Yoga Teacher Magazine to say!)… Anyway! What misconceptions might they have? What might be the difficult adjustments they might have to make?
LB: When I began assisting in our trainings there was a lot of, "I just want to help these poor unfortunate souls..." Literally! We actually got an application that said that! Things have shifted tremendously in the culture over the past several years. At the beginning, our trainings were 100% yoga teachers with the socio-economic privilege that comes along with that. There was a bit of "I'M here to save YOU."  Now our trainings are full of social workers, advocates, school psychologists, art therapists, juvenile probation officers. In our upcoming training we've had inquiries from someone who is doing pastoral care through a Buddhist contemplative lens and a father who lost his son to gang violence. All these amazing people, coming together under one roof to share their wisdom, their experience, their knowledge and their vulnerability. We're also having a much more diverse group of people (in terms of age, gender/sexual orientation, physical ability, ethnic background, past experiences of all different types) who are coming through our doors, which is something that is incredibly important and inspiring to me. It's important for our kids to see that yogis come in all different packages, and that the practice can be and look so different because of that. It doesn't have to look one specific way, which is liberating and inviting.
YTM: I think in both the areas of yoga and mindfulness training this sort of burgeoning diversity is an incredibly exciting development. I even heard there's men involved with this yoga stuff now!
LB: Man, it's amazing! I was on the cover of Buddhadharma magazine and a photo of me teaching at the Democratic National Convention last summer went viral. I couldn't believe the outpouring of support, love and gratitude I got from people via Facebook and within my own Sangha. I knew, but didn't realize how People of Color were invisible in this work. AND MEN, woohoo!  We had five men in our last training, a new record!
YTM: Great stuff! So tell me more about what's coming up for you, where is it taking you now?
LB: Continuing to grow Urban Sangha Project through collaborations, consulting and workshops, and a 6 week silent retreat are what's coming up! I'll be a guest lecturer for Bent on Learning's upcoming training this fall, co-creating a panel discussion with Third Root on Mindfulness in Prisons and Prison Abolition, and leading Urban Sangha Project's Yoga for ChangeMakers workshops.  Next year I'll be teaching yoga on several retreats with Sharon Salzberg and Gina Sharpe at Insight Meditation Society and will be on faculty for Spirit Rock's Mindful Yoga and Meditation Training out in Northern California.  I'll also be speaking at the Yoga Service Council Conference and a few others, and partnering with my dear friend Jacoby Ballard to offer our training in grass roots activism and yoga
YTM: Wow! Busy lady! Can you say a bit more about Urban Sangha, what it is?
LB: Sure! It's really a labor of love and evolution of the work I've been doing. Urban Sangha Project is a collective whose mission is to support the sustainability of frontline changemakers through mindful yoga, meditation and dialog.  We practice yoga to orient and connect ourselves to our bodies, practice meditation to find clarity in our thoughts, and then practice in a listening and speaking dyad to articulate and find support with our words. I created these workshops for all of the Occupiers, teachers, social workers, and correction's officers I had been working with everyday who were so burnt out, were experiencing vicarious trauma and were just re-traumatizing the people that they were supposed to be helping and working with. It's a place for them to come and be taken care of, instead of being the care provider. 
USP started during the Occupy Movement. Some friends and I had started a Meditation Working Group during Occupy that offered metta (loving-kindness meditation) every day in Zuccotti Park. After the Occupiers were evicted from the park I was asked if I could continue that work with some yoga. The Interdependence Project opened their doors and my friend Margarita Manwelyan and I offered weekly classes to Occupiers for 6 months (the actual Occupation only lasted 5 weeks). So after Occupy, I thought, "Who else could use this work?!"  Oh, everyone I've ever been in touch with over all the years that I've been working with court-involved people! It started as a one-off at the Occupy Un-Conference at Pratt University in the winter of 2011, and after speaking at the Yoga Journal Conference in January 2012 came back to start the weekly classes.
YTM: Excuse me, you came back to start the weekly classes?
LB: Yes, I came back, I had shit to do!  (The conference was in San Francisco.)
YTM: Ahahahaaha! "I had shit to do baby!"
LB: Yes! Urban Sangha Project workshops are currently offered to organizations by request and monthly at Charlotte's Place, a community center run by Trinity Church in Lower Manhattan. (Contact them at UrbanSanghaProject@gmail.com.)
YTM: Spreading the love -- and community. Well obviously best wishes to you in all your endeavors, Booker. Hey by the way before we go I just want to say that I felt I learned a lot about all sorts of things in the Lineage training. But I wanted to tell you that I still often employ a particular move you used in a demonstration, of going from tree pose, to extending the raised leg forward, mindfully finding the mat with the foot, and then to a standing pose – sometimes I've even turned it into a narrative, from seed to tree to warrior. So I even owes ya in a teacher-to-teacher way!
LB: I LOVE IT!!!!!!!  I still use something I learned from a music therapist who took our training in like 2008!  By the way, that series came from my deep desire to incorporate walking meditation into my class! So, very proud that you're using it!
YTM: Well thank you again! And thanks so much for all this, and for your staycation time. Enjoy it max!
LB: Absolutely my pleasure. Thank you for the opportunity to get the word out and congratulations on your magazine!!!