Printer-friendly version
by Lisa Francesca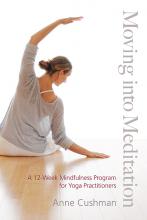 Anne Cushman's Moving Into Meditation arrived on my doorstep while I was midway through a high stakes project management job. I was a stressed-out pup, and everything about the book invited me in, from the graceful curve of the woman's arms on the cover (and one hand firmly grounded on a polished wooden floor) to the testimonials from Angela Farmer, Phillip Moffitt, Stephen Cope and others.
Cushman's book is structured as a twelve-week mindfulness program for yoga practitioners. As she explains in her introduction, most yoga classes teach a wealth of alignment, strength, flexibility, and stress reduction, even joy, but offer little or no instruction in the art of seated meditation. Likewise, one can easily find classes and retreats in the practice of mindfulness meditation, but they rarely build on the skill and sensitivity to body, breath, and energy that we develop in our yoga practice.
Promising a 12-week home practice of inquiry into everything from tight muscles to our talkative narrating mind to the very nature of impermanence: that's a tall order. Happily, Cushman delivers. She brings her own experience of leading the Mindfulness Yoga and Meditation Training at Spirit Rock Meditation Center since 2006, as well as candid stories from her own life. Cushman also wrote the novel Enlightenment for Idiots, the India pilgrimage guide From Here to Nirvana, and numerous published essays.
Each week-long section contains a number of mindfulness-in-the body practices that she found most helpful for herself and her students. Feel Your Hand, for example, or Long Hold of a Standing Posture, and Inviting the Breath to Move More Deeply. Later in the book there are a couple of sequences designed to help you check in with your emotions. Most practices run about 5-10 minutes, though some take as little as three minutes, and several, especially toward the end, run 30 minutes to an hour. Cushman offers questions to ponder and yogic ideas to contemplate as you are performing asanas, as you meditate, and to take with you into daily life.
She bolsters her own experience and teachings with a resource section in every chapter that names specific yoga and meditation teachers and their books. The text is also sprinkled with short wisdom stories from contemporary yogis and meditators. Further, Cushman offers a wealth of supplementary audio and video broadcasts from her website. This meant a lot to me, knowing that as I put my time into the book, I can receive a multi-sensory experience, a rich retreat at my own pace.
Although this book works better for someone who already has a basic understanding of the asanas, none of the poses are strenuous. Instead, Cushman maintains a steady focus on awareness and subtlety; the reader will encounter breath work, sitting, standing, and walking with mindfulness, heart and hip openers, and non-judging encounters with our own bodies, hearts, and minds. I highly recommend this book as a tool for gentle self-exploration and expansion.

Lisa Francesca is a writer and artist living in Campbell, California. She is a perpetual beginner in yoga. You can find more about her at www.lisafrancesca.com.