Printer-friendly version
by Ivan Nahem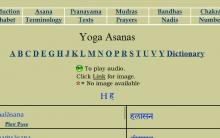 Brainchild of yogi Tilak Pyle, this site is truly a gem of a resource for yoga teachers and students of yoga, particularly if there is interest in the Sanskrit component of such studies. Transliterations, interpretations and, most importantly, pronunciations with sound files are given for many, if not all, the most essential categories of yoga study, from asana to general terminology, texts, prayers, numbers, etc.
Now I think it's interesting that there are subtle differences between the pronunciations on this site and the way American speakers usually articulate these words. And for me, it's a question of not sounding pretentious, but not inaccurate either. I think it's possible to tread that fine line, and this website is a great guide. I think about how I cringe when Greg on Masterchef UK says, "choritzo," which, yeah, is just standard British warping, but still grates. Do you know how to pronounce the essential concept of śauca? You wouldn't from just looking at it, so you must do the research!
And the many categories are delightful. What fun to learn a mantra and be confident in the pronunciations. I was also happy to find included the most appealing of the Yoga Sutras, for example: yogaścittavŗttinirodhaḥ.
Yoga teacher, ḥie thee ḥitheŗ (no, don't even both trying to wipe those dots under the "h" and the "r" off your screen.) It's (a) gaś!
Ivan is the founder/editor of Yoga Teacher Magazine.