Printer-friendly version
Reviewed by Roo Howar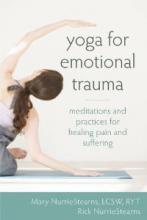 It is not surprising, knowing the myriad benefits of a regular yoga practice, to hear that yoga is a good tool for coping with emotional pain and trauma. However, yoga and meditation can be intimidating fields to jump into for new practitioners, especially in times of difficulty.  Yoga for Emotional Trauma: Meditation and Practices for Healing Pain and Suffering by Mary NurrieStearns and Rick NurrieStearns (release date July 1, 2013. New Harbinger Publications) is a good place to start, with several different meditation, awareness, and asana exercises that are accessible and can be easily integrated into one's daily life. Co-written by a psychotherapist/yoga instructor and a meditation teacher, this book combines aspects of neuroscience, Patanjali's The Yoga Sutras, and therapeutic mental exercises to create a useful reference guide for times of stress or hardship.
Well-researched and supported by findings of numerous scientific studies, Mary and Rick work to give a full picture of emotional trauma, going over many types of emotionally traumatic situations, as well as what goes on in the brain during times of trauma, and what types of practices bring relief. The writing is suited to yogis and non-yogis alike, touching on numerous holistic ideas and practices, and describing how these often esoteric-seeming subjects improve mental functioning in quantifiable ways.
Unlike many books using yoga as a means to heal various physical and mental ailments, Yoga for Emotional Trauma is not primarily focused on asana (though it does have a chapter dedicated to them with gentle chakra-specific sequences complete with illustrations). Instead it offers up general mindfulness as the best means to recovery. Chapters are focused on exploring the paths one can take to develop mindfulness, starting with compassion and working through concentration, singing/breath practices, asana, exercises in remaining present, and surrender to the divine. They also address chronic pain, as that often goes hand-in-hand with emotional trauma, and Rick's story of his near-fatal airplane crash in 2009 illustrates how mindfulness practices can ease one's physical suffering without relying solely on pain medication.
While some of the quotes and anecdotes feel unnecessary in the text, it is obvious that this topic has been thoroughly studied by the authors and about which they are passionate. They have a wealth of information on the topic from both yoga and Western science, and do well at combining the two.
Even for those of us not currently dealing with a strong emotional trauma, the ideas and practices in this book can be integrated into every person's life with real benefits, leading to a calmer, clearer mind, and faith in our ability to bring about positive change when it's needed.

Roo Howar is a vinyasa yoga instructor and writer living in Brooklyn, NY. She began an asana and meditation practice in 2004 while studying at the University of Washington in Seattle, and upon moving to New York, received her 200hr teacher training certification from Greenhouse Holistic in Brooklyn. Connect with her at www.roohowaryoga.com.