Printer-friendly version
Jessica Rienecker (TallGirl Yogi)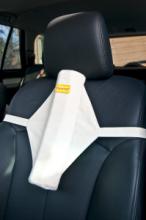 The Yoga Wrap was created by Laura Guccione after she sustained several injuries. Subsequently she nurtured a passion for alignment in the body. For over a decade her wrap has been re-worked and improved on, each time adding nuances and details that have made it the product it is today. The portable spinal support is intended to apply gentle pressure to encourage muscle memory in a more upright seated position. Quoting their site: "The Spinal Support provides an anchor for the thoracic spine and an opening for the sternum. Then, the waist below the rib cage isn't required to take the weight of the upper torso."
As a tall yogi who spent her younger years slouching, and adult years sitting behind a desk, I was thrilled to try the wrap in order to alleviate some of my chronic lower back issues. The adjustable strap has let me use the wrap on both my wooden kitchen chair while checking emails at home, and on my large leather desk chair at the office. I even fit it in my gym bag to take it with me from home to work.
The wrap attaches around the back of a chair, and can be used at various heights depending on the length of your torso and where you'd like the pressure. Sitting back against it for the first time I experienced the feeling of being very upright ‒ but my body quickly appreciated the posture support. The combination of my regular yoga practice with this wrap should surely serve to mitigate my tendency to slump while doing my desk job!
The two options currently available for purchase have either a woven strap, or a woven strap with leather overlay for leather chairs/seats. Each wrap is made with reclaimed yoga mats, natural latex, and organic hemp. The Yoga Wrap folks sent me a wrap with a second, firmer insert to try (only the softer one is on the market at the moment). Due to a weaker core, I preferred the firmer insert, but this might also be something that is a matter of preference (like soft versus firm mattress). Just last month new fabric patterns for the outside of the wrap were released to offer some customization to the original tan material.
Read Laura's inspiring story and shop for the Yoga Wrap at www.yogawrap.com.

Jessica Rienecker has been practicing yoga since 2009, and teaching since 2013 in Orange County, California. She focuses on intro level classes to help make yoga accessible to all fitness levels and body types.You can follow her on facebook at www.facebook.com/TallGirlYogi or her blog at www.tallgirlyogi.com. Jessica is Project Manager at Yoga Teacher Magazine.